The treatment landscape for patients with mRCC has undergone a remarkable transformation over the last few years. In the past, systemic anti-cancer drug therapy was typically limited to monotherapy of either a tyrosine kinase inhibitor (TKI) or an mTOR inhibitor. However, as of June 2021, the medical community has shifted towards recommending combination therapies as the predominant first-line regimens for mRCC patients. These combination therapies often involve the use of a TKI in conjunction with an anti-PD1/PD-L1 immune checkpoint inhibitor.

While the approval of new therapies has undoubtedly expanded treatment options for mRCC patients, it is important to note that this aggressive form of cancer still remains incurable. Despite the progress made in recent years, there are still significant opportunities for further advancements in the management of mRCC, and unmet patient needs persist.

Leveraging our extensive expertise in the mRCC market and our pioneering work in syndicated patient chart audits, APLUSA was proud to introduce mRCCsyndiTrackTM. This cutting-edge syndicated study utilizes real-world data to closely monitor and analyze the evolving landscape of mRCC patient management. By gaining insights from actual patient charts, we aim to provide comprehensive and up-to-date information that can drive improvements in the care and outcomes of individuals living with mRCC.
With data available from France, Germany, Italy, Spain, and the UK, our study recenty encompassed the perspectives of 746 oncologists and urologists. We have meticulously analyzed 1,877 real-world mRCC patient charts, ensuring that our findings are grounded in the realities of clinical practice. Through mRCCsyndiTrackTM, we aim to contribute to the collective understanding of this complex disease, empowering healthcare professionals and the pharmaceutical industry to make informed decisions and ultimately improve patient outcomes.
Join us in this exciting journey as we continue to unravel the mysteries surrounding mRCC and strive towards enhancing the lives of those affected by this challenging condition. Together, we can make a difference in the lives of mRCC patients worldwide.

Example of recent release:
Data available

in France, Germany, Italy, Spain, UK

746 Oncologists and Urologists

1,877 real-world mRCC patient charts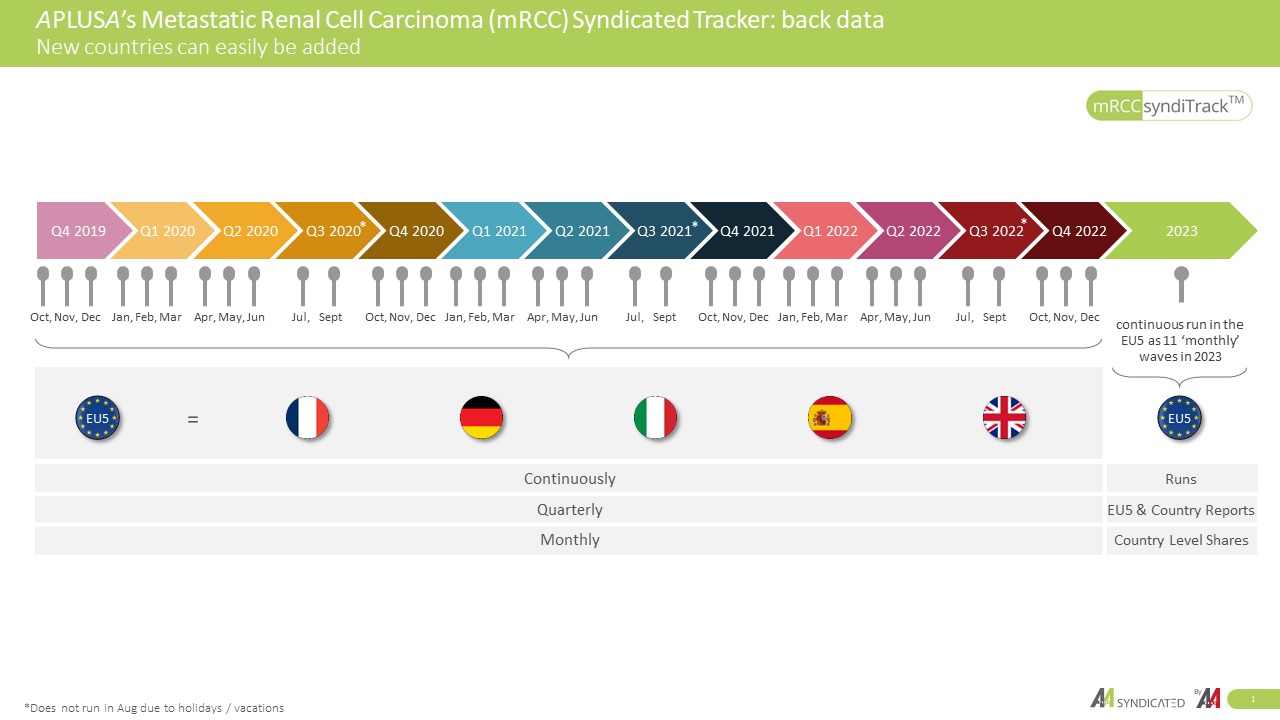 More information about our mRCC syndicated study?
Objectives

Benefits

Samples

Scope

Types of data collected

Dates of research waves
Fill in the form and we will be in touch shortly.
New in 2023!
DOTmRCCsyndiTrack
We have launched a new syndicated survey in the same field of mRCC to observe the actual Duration of Treatment for some very specific regimens across EU5 and the US: fill in the form to know more!

Go further with the data and discover an example of a
Digital & Interactive Dashboard (DID) created by APLUSA
We take here the example of a patient share tracker in Cancer X syndiTrackTM.
The dashboard is built around 6 variables: the country, the treatment start date, the treatment line, the product or regimen, risk factors and market share.

In total, there are many advantages of using this DID:
- your data is available online and can be easily shared within your organization,
- you can create your own views instead of manipulating a large number of powerpoint slides,
- you always have the latest data available, no update problems,
- the data is available on your dashboard much earlier in the data collection,
- the report will be more focused on key insights and storytelling than on data production.
👇 Test our live demo here! 👇