Case Study: Multiple Myeloma Syndicated Tracking Study
Pharmaceutical business issue
Recent advances in multiple myeloma treatment, including protease inhibitors, immunomodulating agents, and monoclonal antibodies, have given patients more options and a better quality of life than ever before. Despite these advances, multiple myeloma remains an incurable disease and treatment for relapsed/refractory (R/R) patients continues to be a pressing need. The emergence of chimeric antigen receptor T-cell (CAR-T) therapy promises a new wave of innovation and treatment progress on the horizon. Until 2015/16 only two major brands (Velcade and Revlimid) were available to treat multiple myeloma. Towards the end of 2016, Kyprolis and Darzalex, along with other newcomers Farydak, Empliciti, and Ninlaro, came to market, changing the market dynamic from the end of 2016. At this point more than ever, pharmaceutical companies with existing or pipeline products in the multiple myeloma market needed to stay abreast of market developments and potential threats and opportunities to their brand.
Why did the client choose to invest in syndicated Multiple Myeloma research from AplusA?
Multiple Myeloma is a complex area and there are multiple potential impacts of the new entrants on the market. In order to accurately analyse the impact of the entrants to the market, real world patient data was crucial in this instance. AplusA are highly experienced in conducting patient chart studies that document real world treatment patterns.
As MM is a rare form of cancer, only a limited number of HCPs are available for research globally. To avoid over researching the population of specialists, syndicated studies are a favorable solution as they provide insightful data to multiple stakeholders

AplusA maintain an "ad hoc study" approach and level of expertise to syndicated studies where applicable.

AplusA have unique experience working with hemato-oncology professional bodies. AplusA's experience lies in working directly with HCPs as well as patients and patient associations such as AF3M (The French Association of Multiple Myeloma).
The added value of the AplusA syndicated solution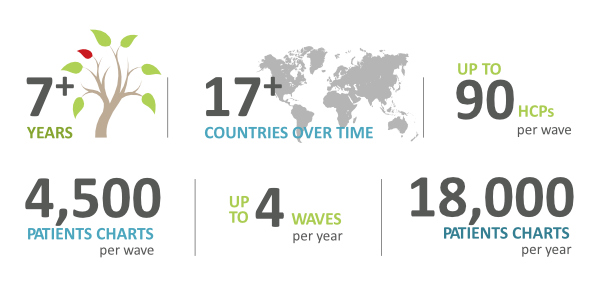 AplusA's syndicated MM tracking study has been ongoing for over seven years and has included research conducted in over seventeen countries so far.

Each year, AplusA conduct four waves of research among up to 90 HCPs per wave

and country

, collecting around 4500 patient charts per wave for this study.

The syndicated MM tracking study collects data from around 18,000 patients charts per year

in the EU5 countries alone

.

Advanced social media listening

can be

used to better understand physician and patient perceptions.

AplusA's outputs

are

precise,

fast and actionable.



Key client takeaways
The client received valuable insights on how this developing market presents challenges and opportunities to new brands. These learnings informed their ongoing growth strategy.
The client also gained insight into potential competitor strategies and into newest developments. Dynamic share is a key KPI to track in this disease area. Brand adoption and movement across market segments is rapid, and the market reacts quickly to new events. Duration of treatment is often ignored in market research studies in this area, but it varies from brand to brand and has a major impact on sales and therefore another essential KPI to track.
Upon delivery of the results from this study, the client gave us the feedback that AplusA delivered more reliable and actionable data than our competitors.

The client also gave the feedback that AplusA are faster than competitors to deliver the results of each wave with an excellent level of service.
Are you interested in finding out more about this study or speaking with one of our senior researchers who specialises in this market? Contact us to arrange a call.